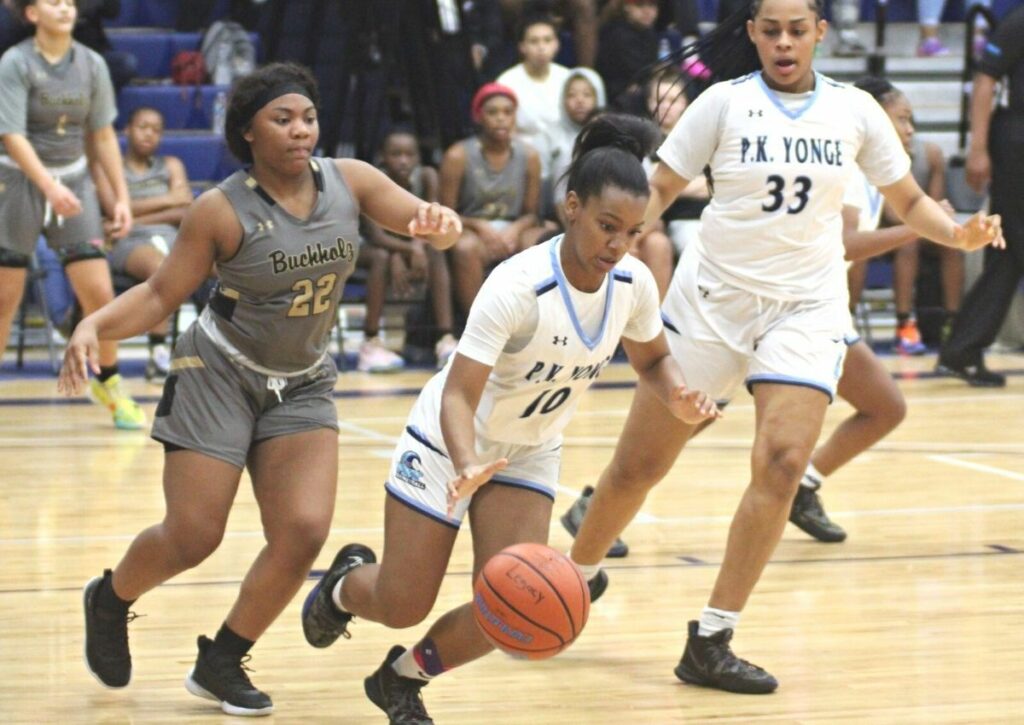 The P.K. Yonge girls basketball team defeated city rival Buchholz, 60-54, on Wednesday on day three of the Hitchcock's Challenge in Alachua.
It was the third straight win in the tournament and fourth straight victory overall for the Lady Blue Wave (6-3), who built a 16-8 lead after the opening quarter and held off the Bobcats in the final quarter.
"We played hard as a team and shared the ball," said P.K. Yonge coach Willie Powers, who said his team is getting better each game. "I'm so proud of them because they really have bought into 'team' over 'me.' No one gave this group a chance this year, but they put their head down and kept working to get better every day."
That sets up an Alachua County showdown with fourth-ranked Class 1A Hawthorne (7-1), which also went 3-0.
"To beat Hawthorne, we're going to have to hit shots and rebound on the defensive end," Powers said. "Their size will be a problem, so we have to get the game up and down the court to try and neutralize their size."
The Class 1A state runner-up Lady Hornets edged Class 4A North Marion (Citra), 48-46, on Wednesday.
"They are a well-coached team which is very disciplined," Powers said.
Tyra Peterson was one of three players in double figures for Buchholz (7-6) with 16 points, followed by Emonie McCallum with 15 and Hannah Mack with 13.
Gainesville (8-4) also finished 3-0 in pool play with a 57-56 win against Tampa Bay Tech.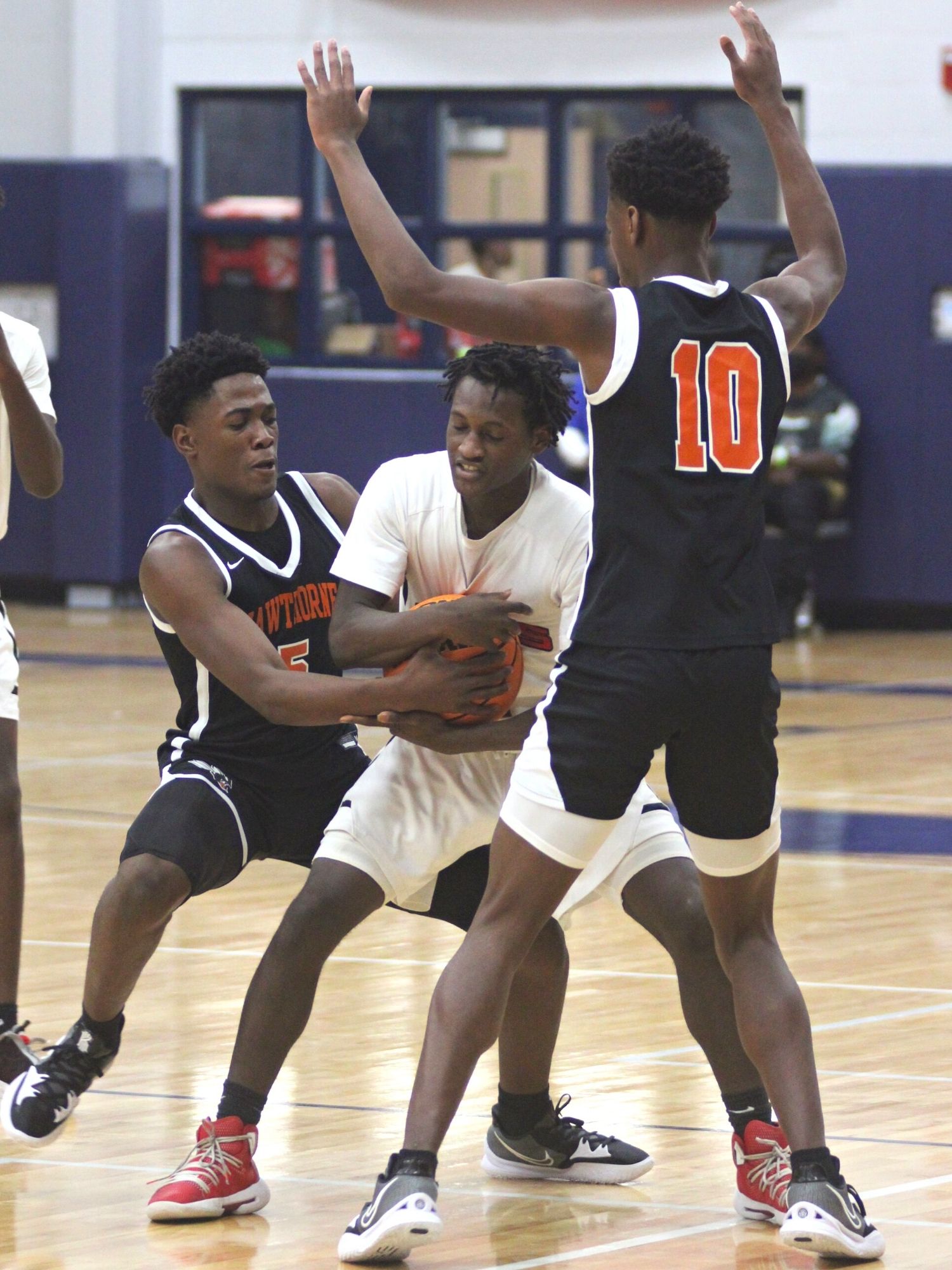 On the boys side, Santa Fe (Alachua) advanced to the championship game with a 58-41 win against Milton.
Junior Don'Trell Jenkins led the Raiders with 24 points, while junior Kyren Washington added 12 points.
Santa Fe (8-4), winners of four in a row, will play Trinity Catholic (Ocala) for the title on Thursday at 5 p.m.
The Celtics defeated Columbia (Lake City), 57-49, in the other semifinal.
This will be the second meeting this season between Santa Fe and Trinity Catholic. The Celtics (12-2) defeated the Raiders, 49-43, at the Mighty Ike Tournament at Williston High School on Nov. 27.
Girls Basketball tournament scores
Wednesday, Dec. 29
Miami Killian 55, Santa Fe (Alachua) 24^
Gainesville 57, Tampa Bay Tech 56^
P.K. Yonge (Gainesville) 60, Buchholz (Gainesville) 54^
Hawthorne 48, North Marion (Citra) 46^
Hilliard 46, Suwannee (Live Oak) 28^
Tuesday, Dec. 28
P.K. Yonge (Gainesville) 62, North Marion (Citra) 42^
Buchholz (Gainesville) 50, Miami Killian 24^
Hawthorne 56, Tampa Bay Tech 46^
Santa Fe (Alachua) 42, Suwannee (Live Oak) 38^
Gainesville 39, Hilliard 25^
Monday, Dec. 27
Gainesville 57, North Marion (Citra) 48^
Hawthorne 47, Hilliard 25^
Dunnellon 63, Eastside (Gainesville) 60*
Buchholz (Gainesville) 57, Santa Fe (Alachua) 36^
P.K. Yonge (Gainesville) 58, Miami Killian 51^
Tampa Bay Tech 70, Suwannee (Live Oak) 24^
^Hitchcock's Challenge
*Eagle Holiday Invitational
Boys Basketball tournament scores
Wednesday, Dec. 29
Hawthorne 55, Fort White 29^
St. John Paul II (Tallahassee) 37, Trenton 23^
Oakleaf (Orange Park) 52, Williston 33%
Buchholz (Gainesville) 77, Kathleen (Lakeland) 68@
Eastside (Gainesville) 41, Tampa Bay Tech 38^
Trinity Catholic (Ocala) 57, Columbia (Lake City) 49^
Gainesville 58, Mosley (Lynn Haven) 50#
Santa Fe (Alachua) 58, Milton 41^
Tuesday, Dec. 28
Miami Killian 77, Fort White 35^
North Fort Myers 51, Williston 44%
Bolles (Jacksonville) 49, Gainesville 41#
Columbia (Lake City) 54, Belleview 18^
Hawthorne 57, Tampa Bay Tech 48^
Milton 46, Trenton 25^
Bronson 68, Taylor County (Perry) 60*
Santa Fe (Alachua) 62, St. John Paul II (Tallahassee) 33^
West Orange (Winter Garden) 52, Buchholz (Gainesville) 49@
Newberry 46, Hilliard 39*
Sandalwood (Jacksonville) 56, Eastside (Gainesville) 47^
Monday, Dec. 27
Trenton 40, Eastside (Gainesville) 37^
St. John Paul II (Tallahassee) 56, Fort White 27^
Buchholz (Gainesville) 75, St. Cloud 53@
Godby (Tallahassee) 77, Hawthorne 59^
Gainesville 53, Edgewater (Orlando) 41#
Newberry 79, Taylor County (Perry) 51*
Palatka 52, Williston 45%
Bronson 57, Hilliard 56*
^Hitchcock's Challenge at Legacy Park Multipurpose Center (Alachua)
@Daytona Beach Mainland Christmas Tournament
#Mosley Holiday Hoopfest (Panama City)
*Eagle Holiday Invitational
%Jarvis Williams Holiday Tournament at Palatka