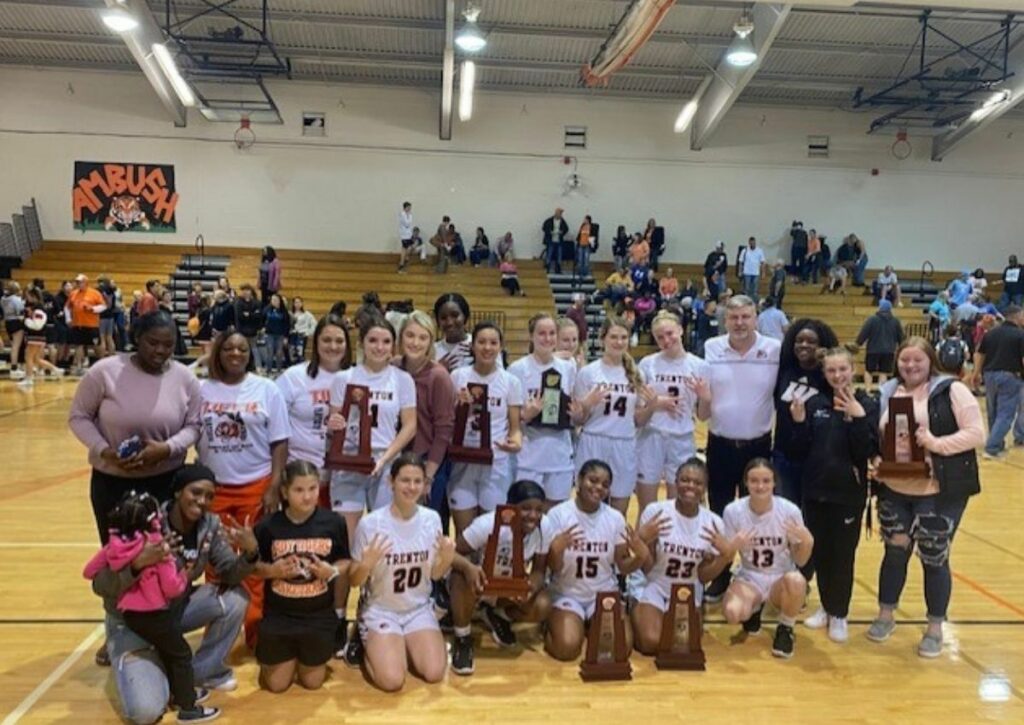 The streaks continued for the Trenton girls basketball program on Friday night.
The top seeded Lady Tigers raced out to a 13-0 lead at home and rode the momentum to a 54-13 win against No. three seed Chiefland in the Class 1A-District 7 championship game.
It was the seventh straight district title for Trenton and its 90th straight district win.
"The girls knew what was at stake tonight, seven in a row, that's very difficult for anybody," Frye said. "It's (90 straight) a testament to the kids, of buying into what we do here and how we do it because that is over an 8-year period. It's not the same team doing it. It's different kids, at different times, and different eras, and I've just been blessed."
Senior Bri Becker scored nine of her game-high 11 points in the first quarter as the Tigers (17-9) built a 23-5 lead after the first eight minutes.
"Ever since 9th grade, she's just that motor in the engine, and how she goes is how we go and that's what happened tonight," Frye said. "She took it over and the rest was history, I guess."
Chiefland didn't score until 2:08 remained in the opening quarter, when 8th-grader Brianna "Cookie" Bell drained a right corner three to make it 13-3. However, Bell picked up four fouls in the opening quarter and senior Nikki Fuller picked up her third foul in the first quarter.
The Indians (17-9) failed to score in the second quarter and trailed 41-5 at the half.
The lopsided score resulted in a running clock to start the second half, allowing several players to get some playing time.
Freshman Nyima Gillyard scored 10 points and sophomore Brianna Karanja added eight points off the bench. The Trenton bench outscored Chiefland's bench, 27-0.
Junior Chloe Wilkerson added seven points as 10 different players scored for the Tigers, who will host an FHSAA Regional Semifinal on Thursday night against an opponent to be determined.
Prior to the game, Trenton honored Frye, who is in his final season as head coach. Former and current players celebrated his historic run.
"Even the district championships are not easy," Frye explained. "I have coaching buddies who may only get one or two in their career, and I've just been fortunate to have seven in a row, which includes several different districts. It's not like it's been the same district. I've had Hawthorne in the district, and Hilliard, so again I'm just going to give all the glory to the kids because without them, and buying in, none of this is possible."
District Championship Games – Friday, February 4
Class 6A-District 3 at Gainesville High
No. 1 Gainesville 70, No. 3 Columbia (Lake City) 62 (Championship)
Class 4A-District 4 at North Marion (Citra)
No. 1 Dunnellon 58, No. 3 Keystone Heights 46 (Championship)
Class 3A-District 2 at Providence (Jacksonville)
No. 1 Providence (Jacksonville) 66, No. 2 P.K. Yonge (Gainesville) 30 (Championship)
Class 1A-District 6 at Fort White
No. 1 Fort White 43, No. 2 Bradford (Starke) 40 (Championship)
Class 1A-District 7 at Trenton
No. 1 Trenton 54, No. 3 Chiefland 13 (Championship)
Class 1A-District 8 at Wildwood
No. 1 Wildwood 46, No. 2 Hawthorne 32 (Championship)